The roof on your home or business provides a vital function in keeping the weather out while also protecting your property and loved ones or guests. Northern Colorado residents understand how important their roof systems can be, especially when confronted with our state's unpredictable weather. If you're looking for a local roofing company with the training and equipment to provide an ideal result for a variety of projects, Schroeder Roofing of Fort Collins is here to help!
Our roofing contractors cover a wide area across the Front Range, from Wellington and Greeley down to Boulder, Denver, and beyond. We know how to provide top-notch services for residential and commercial customers, and will always work hard to ensure that you are satisfied with the results. While we specialize in roof repairs and installations, it's important to know that our professionals are capable of providing a range of repairs and services.
Want to know what all we can do for your property? Keep reading to learn about Schroeder Roofing, and be sure to fill out our form to get your free estimate!
---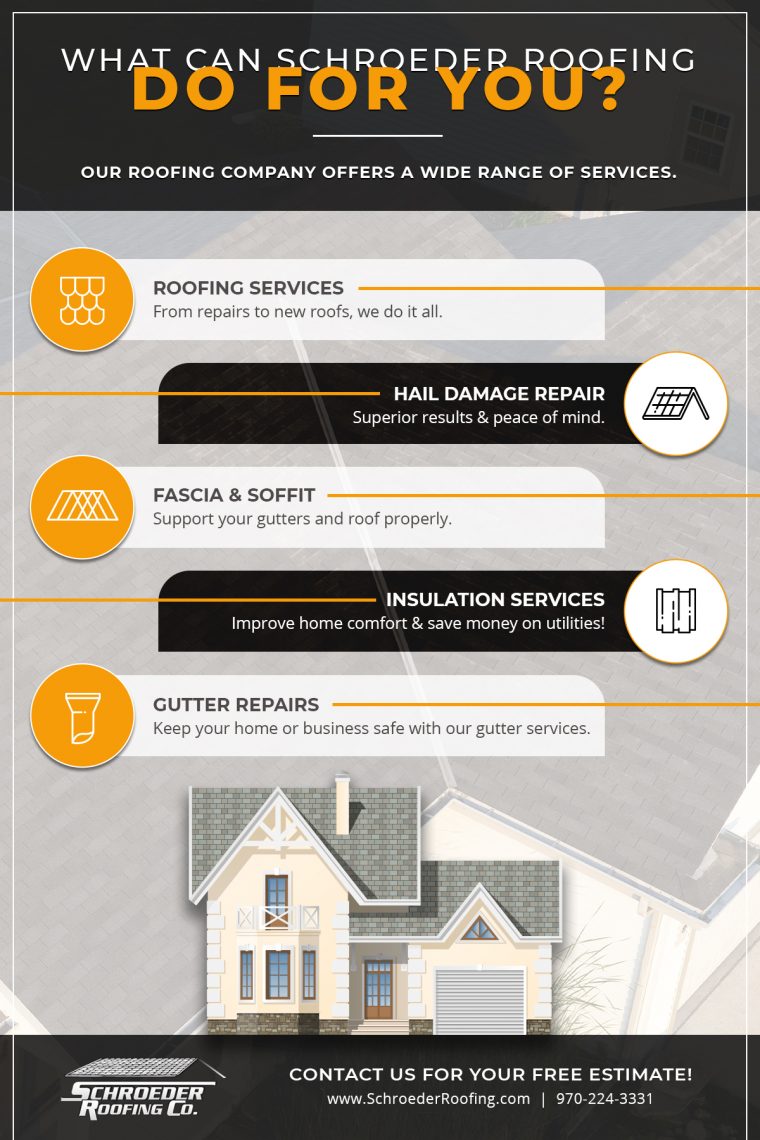 Roofing Services
It pays to work with a professional roofing company when it comes to your property needs. You want a team who is focused, well trained, and experienced. Schroeder Roofing has the skills to take on any project, including a range of commercial and residential projects. Whether you require our technicians to inspect your modest home, or you need us to provide a full install on a megastructure, we're confident that we can get the job done!
Roof Repairs
Colorado's variable and sometimes inclement weather can wreak havoc on your roof system. Over time, continual abuse and exposure to UV rays can begin to cause problems. If you notice that your roof's shingles are curled, cracked, dirty, or missing, we recommend reaching out for quality roof repair services.
If needed, Schroeder Roofing can arrive at your property and provide a professional inspection to determine the scope of your needs. Severe damage from wind, debris, and hail can all cause problems. If roof repairs are needed, our technician will provide an accurate quote for how to best address the problem. We'll provide a complete inspection to ensure that all of your damages are accounted for, and will work with your insurance adjuster to ensure the best coverage.
Roof Replacement Services
Is now the best time to replace your roof? Eventually, your roof system will become so aged or damaged that roof repairs are not a cost-effective solution. In this case, our professionals can get to work installing a new roof on your Northern Colorado home or business. We offer a variety of materials and styles to enhance nearly any property, including asphalt shingles, tiles, metal roofing, low-slope roofs, High Density Polyethylene (HDPE) roofing, and more. 
We understand that no person has a special savings account for a new roof. Schroeder Roofing has partnered with a trusted lender to provide cost-effective financing for customers in need. Contact us today to learn about our financing options!
Gutter Repairs
Your roof is an essential part of your building exterior, but it is not the only element charged with keeping the property safe and secure. Gutters provide an integral service in dispersing rainwater out and away from the foundation. Colorado's harsh weather can impact your gutter system, putting much at risk. Leaks can rot the fascia, damage the siding, create ugly stains, and lead to erosion.
Schroeder Roofing is trained to keep an eye out for any problems associated with your gutter system. If services are needed, we'll likely offer one of two options:
Gutter repairs — Cost-effective repairs can provide the right results for your home or business. Our team will address any sagging, damage, or corrosion associated with your gutter system to create a seamless result. We'll get your system in working order with almost no downtime.
Gutter replacement — A gutter installation may prove to be the best option for your property. New gutters will provide ideal protection and support while improving the aesthetics of your home or business.
Fascia and Soffit Services
While not as popularly known as your roof or gutters, the fascia and soffit that surrounds your property provides key support. These crucial components protect the wood from rain and weather, and work in tandem with your gutter system for stability.
The fascia board is long and runs the span of the home along the lower edge of the roof. This surface supports all of the guttering and the bottom row of the roof tiles, making it essential to check the fascia for damage.
The soffit board is the bottom surface of the roof system underneath the fascia. If you look up at your roof from the ground level, you'll see the soffit board, and may spot ventilation points (or they may be on the fascia). Proper ventilation helps to protect the wood of your roof system.
Our team offers quality fascia and soffit repairs that will enhance how your property looks and how well the gutter system performs.
Hail Damage Repair
Colorado is known to bring intense hail storms from time to time. If you're worried about the condition of your roof after tumultuous weather passes through, feel free to contact us for hail damage repairs. Schroeder Roofing has specialized in roof repairs since 1977, and we're ready to provide the right service for your home or business. We promise timely turnarounds and stress-free outcomes every step of the way, and can work closely with your insurance company to achieve a beneficial result.

Insulation Services
The insulation beneath your roof helps to efficiently regulate the heating and cooling of your home through variable weather changes. If your energy bills seem to be higher than ever, attic insulation services may provide an ideal change. Proper insulation helps to stabilize temperatures within the home, increasing comfort while cutting down costs. Schroeder Roofing's team is trained directly by the manufacturer on how to properly use their products, ensuring that you'll benefit from a quality finish the first time. Our approach to meeting the manufacturer's strict standards will maximize the energy efficiency of your property.
Contact Us Today
Are you looking for a quality roofing company in Fort Collins to provide the right outcome for your local home or business? Schroeder Roofing serves the Front Range with pride, including home and business owners from Wellington, Denver, and everywhere in between. We specialize in comprehensive customer assistance, and will be happy to provide a no-hassle consultation for your project. No other roofer strives to provide the highest level of service at very affordable prices.
Contact us online to get started!